Murl & Guy Chivers and 66 Cleaners
A remembrance by Rinky Chivers PHS 56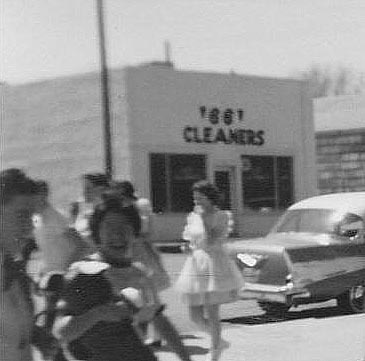 My Mother and Dad, Murl and Guy Chivers were married November 14, 1931 in Durant, Oklahoma. In just a few days they will have been married 62 years. I don't believe I have ever seen more devotion and love than they have shared.
Their marriage began during the Depression. Dad worked at a Cities Service Station and Mom worked in a laundry. Times were really hard in Oklahoma in those days so they decided to pull up stakes and move to Borger, Texas. It was 1933 and they settled in a little shack in what then was called 'Rag Town'. Borger in those early years was an oilfield boomtown. Many houses were just shacks held together with tar paper. One street in town was lined with beer halls and honkytonks. I remember seeing a few fist fights on the street.
Dad started working for Phillips Petroleum Company. Their first daughter, Pat, was born in March of 1934 and they moved to Coble Lease. I was born in November of 1937. We lived on Dimit Street in Phillips in our small company house. Mother started working for the 66 Cleaners. They purchased the cleaners from Annie Davis in 1946. Dad continued working for Phillips and Mom ran the cleaners. He quit working for Phillips Petroleum in 1947. They were equal partners in the business until they closed it in 1974. Each had special gifts that made their business a success. Mom had a gift for sewing and alterations, but more importantly, a gift for working with people. She was interested in giving her best to everyone who came in. It never mattered if you were rich or poor, teacher or janitor. Everyone was treated with kindness and respect.
Dad, who had little formal education, always did the bookkeeping. He always got up at 5:30, ate breakfast, and went to the cleaners to get up steam for the day. These were long days of hard work, but they were the happiest days of their lives. Someone was always dropping by. They would sit in those two chairs by the front window. Mom could sew and talk at the same time and always had a mouthful of pins. Hot coffee and cold drinks were always available.
These two people were more than 'just in love', they were friends. My mother always thought my father was the most wonderful human being on the face of the earth. That doesn't mean they didn't have differences of opinion, but with love and respect, those things can always be worked out.
I only wish young people today could understand how important the choice of a mate is. That the outer beauty fades with age but the inner beauty becomes even more beautiful. However, we all have to make our own choices and our own mistakes.
Mother now has Alzheimer's and can no longer recognize any of us but Dad. We took Dad in to see Mother after he spent the 4th of July with us. When we walked in the room she was asleep. He touched her foot and she awakened. She looked as if a light had come on in the room. He sat down by the side of the bed and she reached over and grabbed his hands. She looked up at us and said, "I just worship this man!" She can't tell you his name or that he is her husband, but she knows he is hers, and she loves him.
When Dad goes in to see her his eyes shine as he bends to kiss her. He looks at her like she was still twenty years old. This kind of love and caring is truly a beautiful thing. Their 62 years together have been an inspiration to me. They have devoted their lives to each other, God, family, and friends. They leave us a legacy of memories.
Pat and I were truly blessed to have these special parents. I am thankful to have been surrounded by such sincerity and love all these years.
Rinky Chivers Sanders
November 1, 1993
Below is a photo of Borger as a boomtown..
All email addresses have @ replaced with _AT_ to discourage spam. Webpage updated: 23 August 2009